LITIGATION AND TRANSACTIONAL LAW FIRM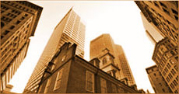 For more than 30 years, the Law Office of Richard Stelnik has provided legal services to individuals and businesses in New York. The firm's office is located on Broadway in lower Manhattan, not far from city hall.

The firm provides experienced and creative representation to its clients in both litigated and transactional matters.

The litigated matters handled by the firm include accidents, commercial cases and divorce. Over the years, the firm has handled a wide variety of accident cases as well as commercial litigation, including matters involving claims of breach of contract, securities fraud, lender liability, wrongful termination of employment and copyright.

The transactional matters handled by the firm include real estate, corporate and trademark matters.